Back
Dominican Sisters of Peace Honor Student Artists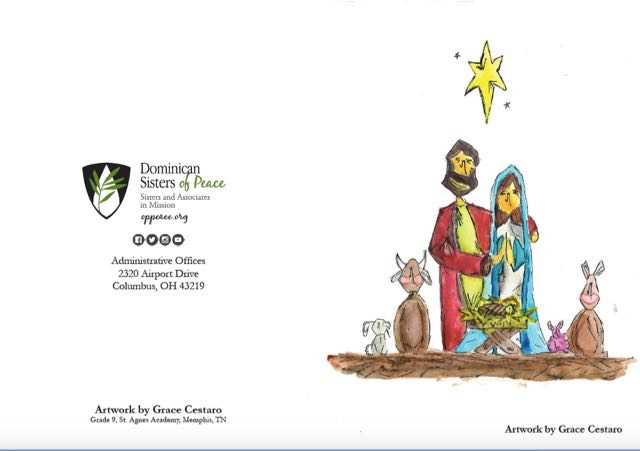 Artwork created by St. Agnes Academy freshman, Grace Cestaro, is one of four designs being featured by Dominican Sisters of Peace on their Christmas cards this year.
For Christmas 2018, the Dominican Sisters asked students at their founded elementary and high schools in Memphis, Akron, and New Orleans to create art for the annual Congregational Christmas card, using the theme "A Prayer of Peace for Christmas."
Grace's artwork was selected from more than 600 pieces of art. The Congregation's leadership team, made up of Prioress Sr. Pat Twohill, Sr. Anne Lythgoe, Sr. Gemma Doll, Sr. Gene Poore, and Sr. Therese Leckert chose four entries to be produced into cards that are being sent to friends and benefactors of the Dominican Sisters of Peace around the world.
"We are so happy to feature the work of our young artists in our Christmas greeting this year," said Prioress Pat Twohill. "It is an honor and a pleasure to showcase the work being done by our students with the guidance of their instructors."
In addition to Grace's artwork, the Christmas cards also highlight work by the following students:
Celeste Patron, Grade 11, St. Mary's Dominican High School, New Orleans, LA
Ansuya Sharma, Grade 3, Our Lady of the Elms, Akron, OH
Anna Zahoranski, Grade 5, Our Lady of the Elms, Akron, OH
All the artwork that was submitted is being featured on videos on the Congregation's website and social media platforms throughout Advent.
About the Dominican Sisters of Peace:
Dominican Sisters of Peace, members of the Order of Preachers, are vowed Catholic women who strive to spread the Gospel of Christ and advance the Kingdom of God through lives of service and peace-making. The Dominican Sisters of Peace are present in 22 states, Nigeria and Peru. The Sisters serve God's people in many ways, including education, health care, spirituality, pastoral care, prison ministry, the arts, and care of creation. There are 457 sisters and more than 600 lay associates affiliated with the congregation.