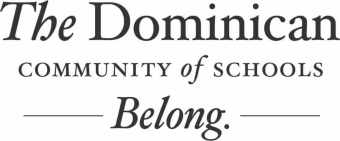 St. Agnes Academy, designed just for girls, and St. Dominic School,
created just for boys, are part of a nurturing learning and
faith community where every student belongs.
The Dominican Community of Schools is more than a campus where you'll find two challenging schools. It is a single community of faith and respect; of principle and purpose.
Gala is this Friday!
February 15
St. Agnes "Friendsgiving" Spreads Cheer to the Community
By Ruth Ellen Berry, SAA Class of 2020
Thanksgiving is a time to enjoy good food with friends and family and focus on everything you are thankful for. However, some families are unable to be together during the holiday or aren't able to provide a Thanksgiving meal. This Thanksgiving season, the St. Agnes Upper School community participated in a service project to give those families the opportunity to enjoy a special Thanksgiving day.
The project was called "Friends Giving." While a Friendsgiving is typically a Thanksgiving meal shared specifically between friends, St. Agnes's Friend's Giving was a service project organized by the Student Government Association benefiting the families of Perea Preschool. Students and faculty signed up with their friends or family in groups of three to "fill a bag and fulfill a need." The bags contained ten basic Thanksgiving foods, including cornbread, cranberry sauce, mashed potatoes, and a handwritten note to the family.
Over sixty bags were donated, giving the families at Perea the opportunity for a memorable Thanksgiving and spreading a spirit of gratitude and thankfulness throughout the Upper School halls. Underclassmen, upperclassmen, and teachers alike participated in the service project and all around gained a meaningful experience.
Freshman, Grace Cestaro said, "even though it was just basic things like food, putting the bag together really touched my heart as I hoped it touched others." When asked how she felt after completing the "Friends Giving" project, Junior, Gracie Hall said that she was "fulfilled knowing that we helped so many people have a special Thanksgiving." Even teachers and faculty joined in, with English teacher Dr. Jennifer Lovelace saying "to give a family a meal warmed all of our hearts and was the perfect way to go into our holiday—with gratitude."
The "Friends Giving" service project not only gave the families of Perea an unforgettable Thanksgiving memory, but also allowed the St. Agnes Upper School family to come together and recognize all that they have to be thankful for: the opportunity to provide for those in need and the wonderful community that surrounds them everyday.