Back
Welcome | St. Agnes Academy-St. Dominic School
We know that finding just the right school for your child is one of the most important decisions you will make. We are delighted to help you as you begin learning more about our school.
At the Dominican Community of Schools, our students have the opportunity to develop passions, build on strengths, explore interests, and develop lifelong relationships in an environment that embraces each individual child. St. Agnes Academy, designed just for girls and St. Dominic School, created just for boys, are part of a nurturing learning and faith community where every student belongs. Our faculty and administrators partner with parents to celebrate, challenge, encourage, and guide children so they are academically, emotionally, and socially prepared for the world of college and beyond.
A world of opportunity is awaiting your child, and we look forward to sharing each step along the way with you! We would love to meet you and schedule a personal tour. Please call our office to set up a time to visit with us or click here to schedule a tour.
Click here to learn more about St. Agnes Academy
Click here to learn more about St. Dominic School
Meet the Admission Directors
Allison Carruthers, SAA '81
Allison has been working as the Admissions Assistant during the 2018-2019 school year and previously served as a substitute teacher. She has almost 20 years of experience with FTB Advisors where she was a Vice President and Investment Advisor. Ms. Carruthers has one son, Trip, who is a graduate of St. Dominic School Class of 2016. Her office number is (901)435-5818 or acarruthers@saa-sds.org.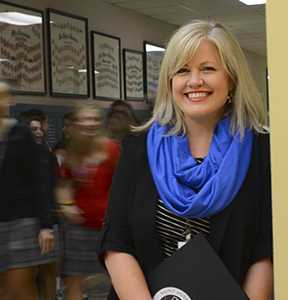 Jean Skorupa-Moore, SAA '90
Mrs. Moore's background includes marketing, fundraising, administration, small business ownership, and fitness instruction. She is a graduate of St. Agnes Academy and The University of Memphis. Jean and her husband David have a son (James). Her office number is (901)435-5858 or email jsmoore@saa-sds.org
ADMISSIONS CALENDAR
October 10, 2019
Coffee and Conversation
7:00 a.m. - 9:00 a.m.
Panera at Laurelwood
Meet us at Panera at Laurelwood for Coffee & Conversation for the parent on the go! This is a great opportunity to chat with our Admissions team to learn more about the school!
October 23, 2019
9th Grade Preview Morning
8:45 a.m. - 12:00 p.m.
SAA Upper School hosts a preview morning for all 8th grade girls interested in enrolling in 9th grade for the 2020-21 school year!
RSVP Required - admissions@saa-sds.org
October 26, 2019
Story Time and Author Visit - Doodle the Deer
10:30 a.m. - 11:30 a.m.
Join us for story time activities with Terre Harris author of Doodle the Deer. There will be crafts and the author will be signing books.
November 4, 2019
Jr. High Preview Morning
10:00 am to noon
Learn more about our amazing Junior High at SAA-SDS. Your child will have the opportunity to preview Junior High courses and meet prospective classmates! Email admissions@saa-sds.org to save your seat.
November 8, 2019
Sneak Peek Story Time
11:00 a.m.
(for parents and children ages 2-3)
Children ages 2-3 are invited to enjoy a fun-filled morning of stories, songs and activities in our Early Childhood Center. To reserve your spot or learn more, call 901-435-5818 or email admissions@saa-sds.org.
November 12, 2019
Open House - Tour Evening - All Grades
6:00 p.m. - 7:30 p.m.
Enter at Siena Hall
We invite you to take a closer look during our upcoming Open House, November 12. Meet administrators, talk with students and explore our campus. Email admissions@saa-sds.org to RSVP.
For more information about any of these events, please contact admissions@saa-sds.org, or call 901-435-5819.