Back
TORCH Awards Celebrate Students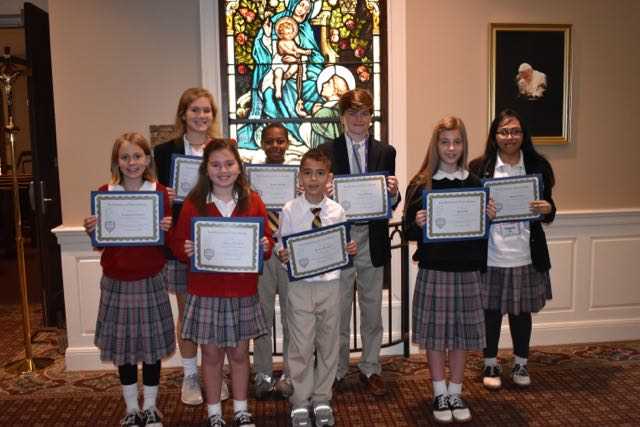 Pictured from l. to r.: Caroline Coffey (SA5), Lily Pietrangelo (SA11), Grace Turner (SA3), Kewon Flynn (SD6), Gavin Russett (SD1), Jack Pender (SD8), Zoe Gill (SA7), and Yesenia Villa (SA10).
St. Agnes Academy and St. Dominic School honored students with the presentation of the Dominican Torch Award during the School's celebration of the Feast of All Saints on November 1. The Torch Awards recognize those students who exhibit, by their example, the four pillars of the Dominican charism: Study, Prayer, Community and Service. Students are nominated for this honor by their classmates and teachers, and the awards are presented twice a year.
Below are excerpts from the nominations, which were submitted by classmates and teachers.
Grace Turner SA3: "Grace is kind and loving. She is a problem solver. Grace is very kind to everyone. She always brings socks and pop tabs in to help charities. She represents the Four Pillars and is very giving. Grace comes to the rescue! I don't know what I would do without her."
Gavin Russett SD1: "Gavin is a kind and special boy. He wears a smile on his face and cares for his classmates in and out of the classroom. Gavin includes others in his activities and is respectful. He is bilingual and speaks Spanish in the classroom, which helps others to reinforce what they learned in Spanish class."
Caroline Coffey SA5: "I nominate Caroline because she is the most caring person I know. She is SUPER smart and is always prepared for tests. She doesn't care about what anyone else thinks of her; that's why everyone likes her."
Kewon Flynn SD6: "I am nominating Kewon because he is so nice, funny and will help anyone that needs help. He has NEVER been mean to anyone. Ever. He makes me laugh and offers help in math."
"One time Kewon caught a ball in football and gave it to a kid that hadn't caught the ball yet. That was very cool."
Zoe Gill SA7: "Zoe is a bright light in the Junior High. She is thoughtful and respectful of others. She cares about her classmates and always offers a warm smile and positive attitude to any situation. Zoe exemplifies the Four Pillars of Dominican spirituality."
Jack Pender SD8: "Jack is a friend to all. He is one of the kindest 8th grade boys I have ever met. His quiet presence is calming and he is a positive role model for all of the SDS boys. He possesses a deep spirituality and a positive nature that is welcoming and friendly."
Yesenia Villa SA10:"Yesenia always has a smile on her face. Her joy radiates from her, and those around her cannot help but be more joyful too. She is always kind to others. She is able to raise someone's spirits with her gentle 'How are you?' and her contagious energy."
Lily Pietrangelo SA11:"Lily is always smiling and maintains a positive attitude regardless of the circumstance. During a recent rafting trip to the Ocoee River, a new freshman needed someone to stay with. Lily offered to assist and guide her during the entire trip, making her rafting experience very memorable. Lily shows compassion, responsibility and selflessness in all she does."