Back
SAA Senior Izzy Fraire Named US Youth Soccer South Region Volunteer of the Year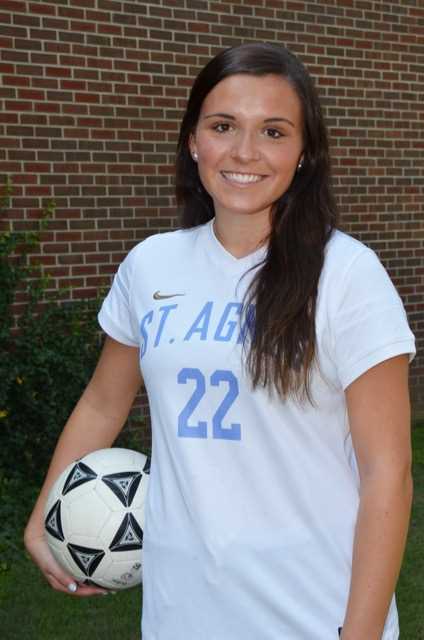 Izzy Fraire is a four-year member of the St. Agnes Academy varsity soccer team who has turned her talent and love for the game into life-changing community service.
US Youth Soccer has recognized Izzy for her efforts by naming her the 2018 US Youth Soccer South Region Volunteer of the Year. This award honors those who are excellent role models for their community, who exhibit a willingness to promote players and soccer, demonstrate sound moral and ethical character, and who increase the opportunities to participate in soccer.
She was also honored by the Germantown Education Commission which named Izzy the Youth Excellence Award Winner for October 2018.
Izzy has been playing soccer non-stop since the age of three. She loves the game, but recognized that some children didn't have the opportunity to play soccer because it was too expensive and their families couldn't afford it.
Izzy wanted to help kids learn the game she loves. Seeing a need, she decided to do something about it. At the age of 16 she earned her National F & E US Soccer coaching license and TSAA State D Soccer coaching license and established her own non-profit charity, Fraire's Pass it Forward, to support free soccer camps.
In June of 2016, 40 children from Big Brothers Big Sisters of the Mid-South attended Izzy's first free weeklong soccer camp learning the skills and fundamentals of the game. The following year she hosted a second camp for 55 children from Big Brothers Big Sisters and the Dorothy Day House. Last month Izzy hosted a camp for the Boys and Girls Club of Jackson, and plans for a camp in June 2019 are well underway with 75 campers already signed up. Recently the Tennessee State Soccer Association has partnered with Izzy in her efforts.
"I firmly believe people should lend a helping hand to their community when they see a need. One small action may end up changing someone's whole life," said Izzy.