Back
Strong Inside, MLK, and Guys Read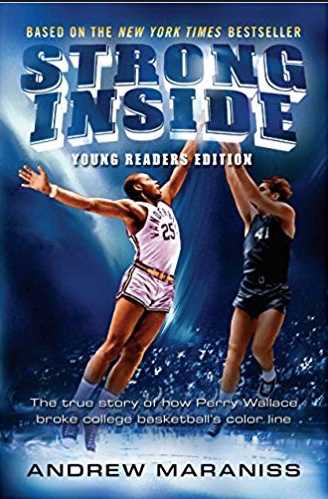 Strong Inside, MLK, and Guys Read
A Message from St. Dominic School Dean Chris Burke
Have you heard of #Dadsread? This campaign celebrates the efforts of fathers and male mentors to read with younger children, especially boys. When fathers or male mentors take an active role in a child's education and reading, kids are more likely to make A's, participate in activities like clubs and sports, enjoy school, and be a year or more ahead in school. I encourage you to commit to reading nightly with your St. Dominic SUN and garner the benefits of the dialogue that opens through this opportunity.
The SAA-SDS Library is offering a special event called Guys Read. It is open to our SDS SUNS and their male mentors in grades 4-8. Those who choose to participate will read the New York Times bestseller book, Strong Inside. Also included in this Guys Read opportunity is a discussion and dinner with the author, Andrew Maraniss on March 24 at SDS.
The Guys Read event in combination with the theme of the book Strong Inside come at an appropriate time as we honor Dr. Martin Luther King, Jr. this month. Dr. King sought to bring all people together regardless of race, gender, or ethnicity united in God's love and peace. Dr. King's legend shares similarities with the legend of Perry Wallace, who is the focus of Strong Inside. Both were pioneers for equality and justice taking a stand for what is good, right, and fair. Many people are familiar with the big stories of racial integration in sports like Jackie Robinson with the Dodgers and Althea Gibson at Wimbledon. But after the 1964 Civil Rights Act, many lesser-known African American athletes became"firsts" whether they liked that distinction or not.
Perry Wallace was the first African-American varsity athlete to play basketball in the Southeastern Conference, playing for Vanderbilt University. Both Perry and MLK took risks that benefited our society and can teach our children meaningful lessons. I am reminded of Dr. King's quote, "The ultimate measure of a man is not where he stands in moments of comfort and convenience, but where he stands at times of challenge and controversy." Perry Wallace epitomized what Dr. King was sharing with the world. Every year during the week we honor Dr. Martin Luther King, Jr., I watch, listen to, and then discuss Dr. King's I Have A Dream Speech with my dad. I encourage you to do the same with your children.
The faculty and staff at St. Dominic inspire our boys to have vision and purpose. How we prepare our young men to contribute to our world as caring citizens is vital to our mission. At St. Dominic School, we are proud to honor the legacy of Dr. Martin Luther King, Jr. by listening, leading, living, and reading with open hearts.