Back
Dominican TORCH Awards Presented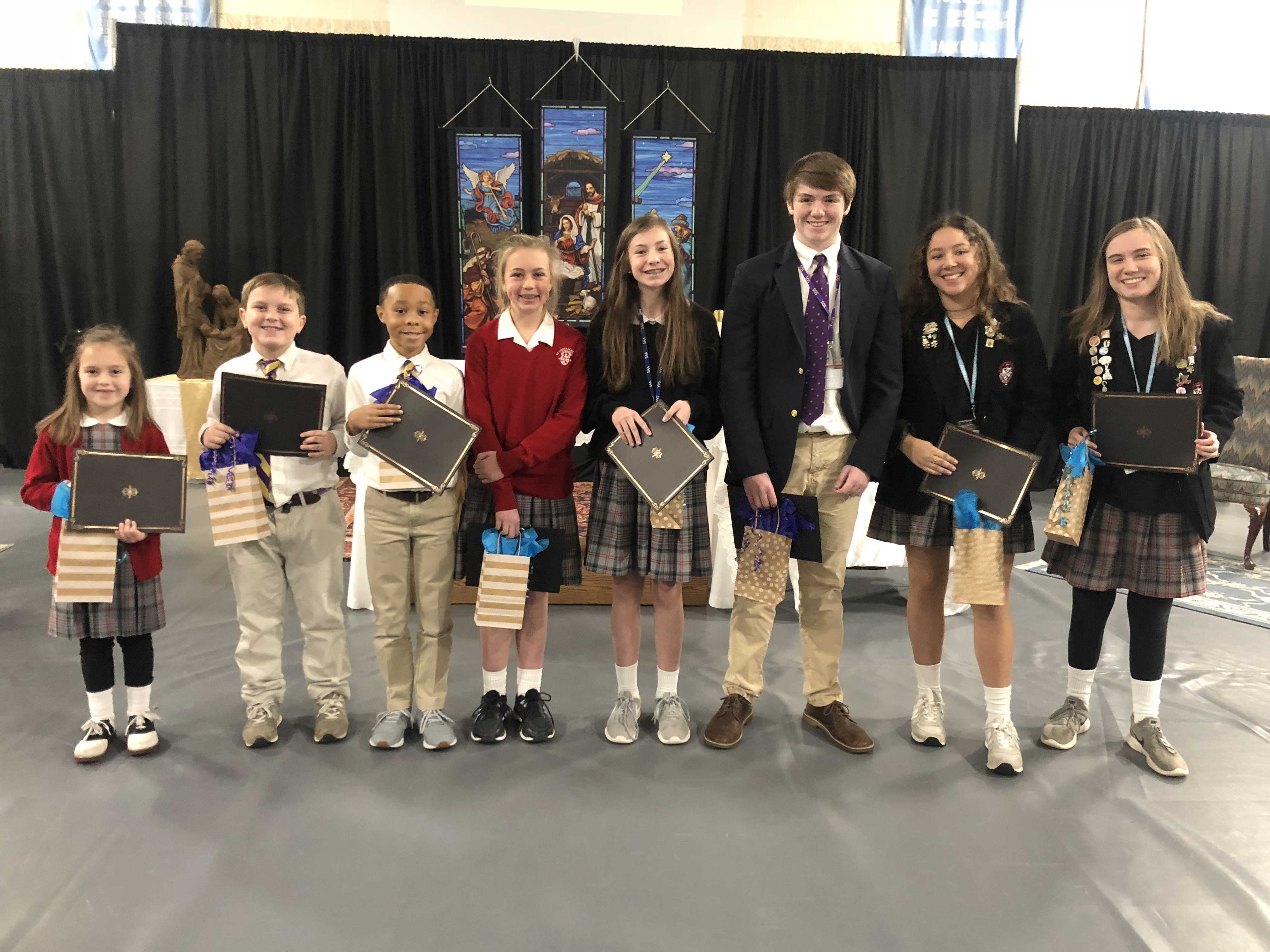 St. Agnes Academy and St. Dominic School honored eight students with the presentation of the Dominican Torch Award during the School's celebration of the Feast of Epiphany. The Torch Awards, which are presented twice a year, recognize those students who live their daily lives in a way that reflects the Four Pillars of Study, Prayer, Community and Service. Congratulations to Francesca Price, Cole Tidwell, Harlan Caston, Olivia Weems, Mae Cianciola, Hogin Barker, Sara Khouzam, and Dani Craven.
Classmates and teachers nominate students for the Torch Award. Below are excerpts from the nominations recognizing the many ways these students exhibit a loving and faithful life.
Francesca Price, SA1: "Francesca is kind, respectful and she really prays a lot!! She uses her best manners and is quiet when we are on the carpet or when someone else is talking. Francesca is very nice. I like her and I like her bows. She always follows the rules and does what the teacher says to do. Here is list of Francesca's attributes: Helpful, Confident, Prayerful, and she loves God, too!"
Cole Tidwell, SD3: "Cole has no bad side. He is nice to everyone. I nominate Cole for many reasons, but this paper is not big enough for me to write all the things I want to say. Cole is unselfish and heart filling. He stands up for others, is a good sport and has a funny personality. He helps others and tries to make everything fair. He never thinks about what HE did good, but thinks about how OTHERS did good."
Olivia Weems, SA6: "Olivia is very kind. She is positive and confident. She lives her life on the Four Pillars and is a caring friend. Olivia studies very hard before tests and is very smart and truthful. She is responsible for her own stuff. Olivia is perfect for this award."
Harlan Caston, SD4: "Harlan is passionate about his school and the world. Today he spent his whole recess cleaning up the playground and picking up trash. This goes along with the Four Pillars of both community and service. He has commitment and cares for the environment. He saves trees. "
Mae Cianciola, SA7: "Mae is always in a good mood and she knows how to make others more positive, too. She is very attentive in class and is respectful towards the teachers. Mae is happy and friendly to everyone. She demonstrates the Pillar of Study very well. She makes excellent grades and shares her knowledge with others."
Hogin Barker, SD8: "Hogin is the most positive person I know. He always looks at life on the bright side. He is selfless and determined. Hogin has a smile on his face all the time. His good attitude wears off onto others. He never brings anyone down, only up. He is a great example of a St. Dominic Sun."
Dani Craven, SA12: "Dani helps others solely out of the goodness of her heart. She is a humble servant leader who never fails to put others before herself. Dani has a great passion for learning as displayed by her inquisitive disposition in the classroom and her strong work ethic. St. Agnes will definitely miss Dani's amazing personality this time next year."
Sara Khouzam, SA11: "Sara exemplifies the Four Pillars of Prayer, Study, Community and Service. She is devoted to her faith, conscientious in her studies, active in her school, and has distinguished herself with service to Madonna Learning Center, the St. Louis Youth Group, and Forever Friends. She represents her school and herself well. Most importantly, she lives out her Catholic faith daily. We are very fortunate to have her at St. Agnes Academy.