Back
SAA Stars Earn Honors at Model UN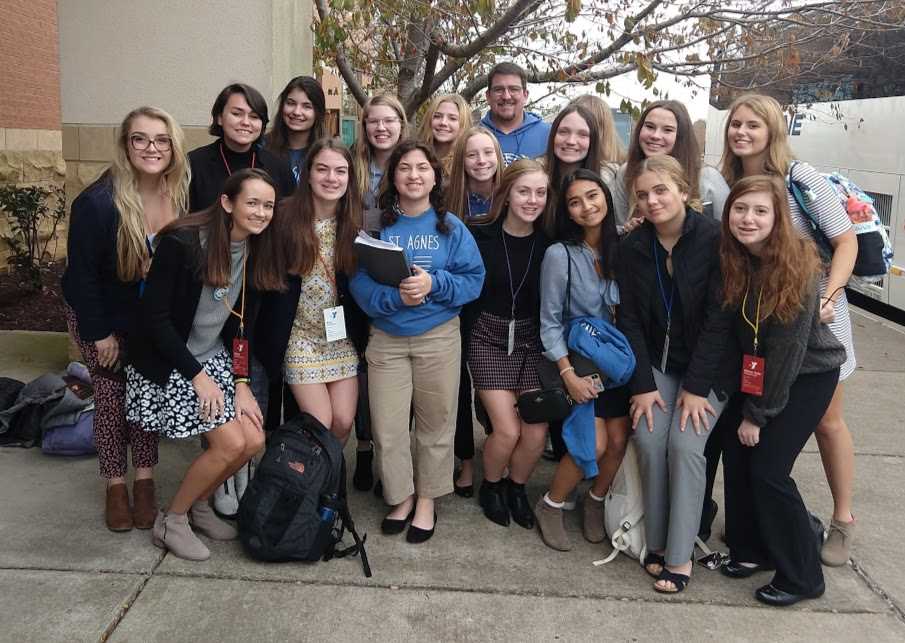 Seventeen St. Agnes Academy Stars recently attended the 39th Annual YMCA Model United Nations Conference where they learned about the real world operation of the United Nations. Students participated in a reenactment of UN activities, representing member countries' interests in the General Assembly, and drafting and debating resolutions in an attempt to find solutions for some of the world's greatest problems. The SAA delegation represented five countries and earned numerous honors for their efforts.
Maddy Ryan, president of the St. Agnes Government Club, was selected to the UN Security Council. As one of only 15 students selected for this role, Maddy debated 16 resolutions and successfully completed a crisis.
Hazel Brady and Mary Olivia Henderson were named Outstanding Delegates at the conference. Mary Olivia, Nancy Kate Fleschinger, and Sophia Carroll, representing France, drafted a resolution that was eventually passed by the General Assembly. For their efforts, the group was presented the Outstanding Resolution Award. Additionally their resolution was selected as the best resolution for their General Assembly Committee. Alexandra McLaren, Hannah Brucks, Paige Jerit, and Grace Kamler, representing St. Lucia, drafted a resolution which was also selected the best resolution for their General Assembly committee.
These young women, along with Veronica Thompson, Ava Sichting, Finley Barger, Addison Maloney, Addie Brady, Abby Pyrdom, Abbie Hunt, and Vina Vedala, worked since August to prepare for this conference. The annual conference is sponsored by the YMCA of Middle Tennessee. Next up, Youth in Government in the spring!