Back
Four St. Agnes Seniors Sign National Letters of Intent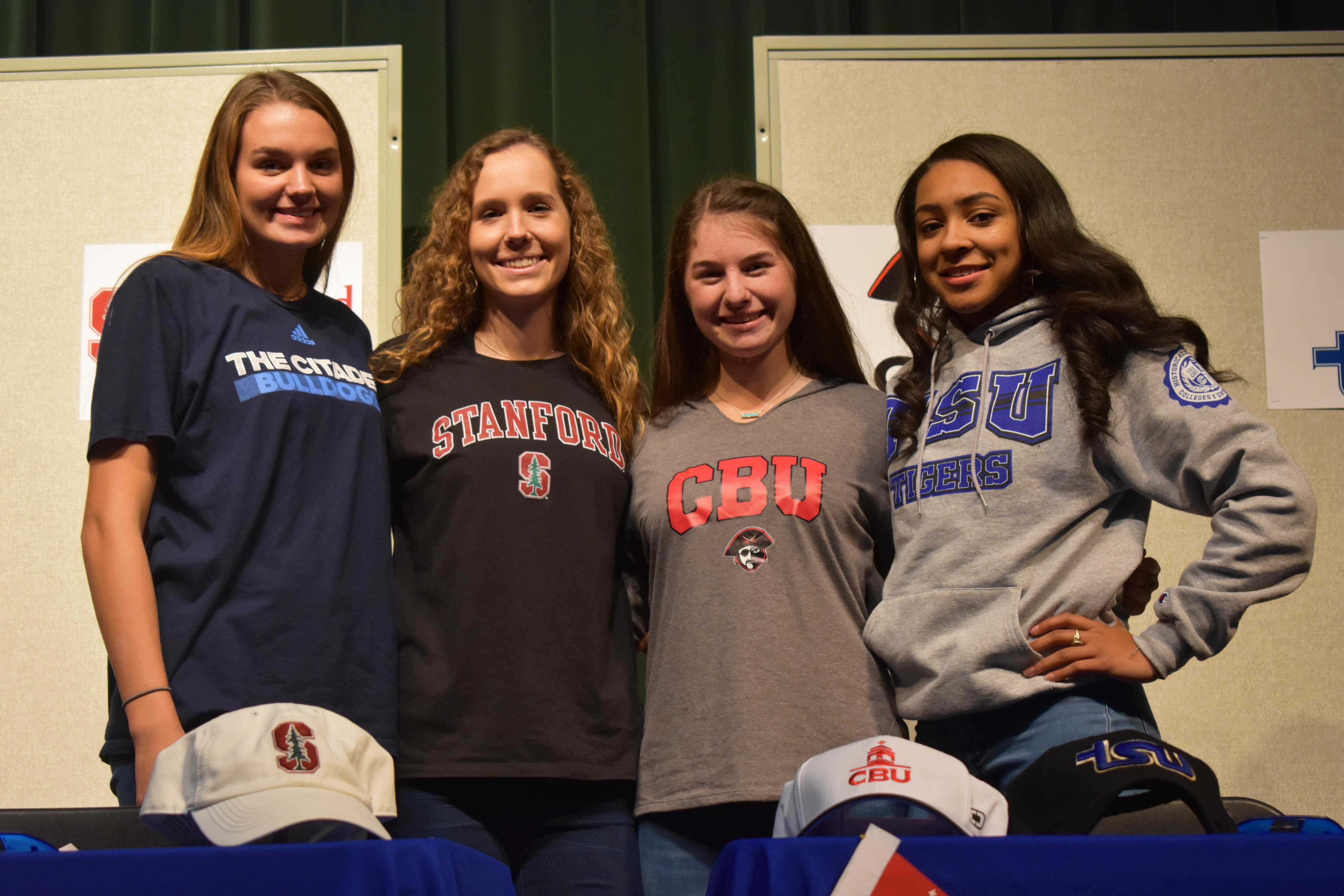 Four St. Agnes Academy student athletes will take their talents to the collegiate level next year. The stars were shining as seniors Kathleen Bula (volleyball), Rachel Heck (golf),Ellie Navarre (golf), and Brali Simmons (basketball) each signed Letters of Intent on national signing day November 13.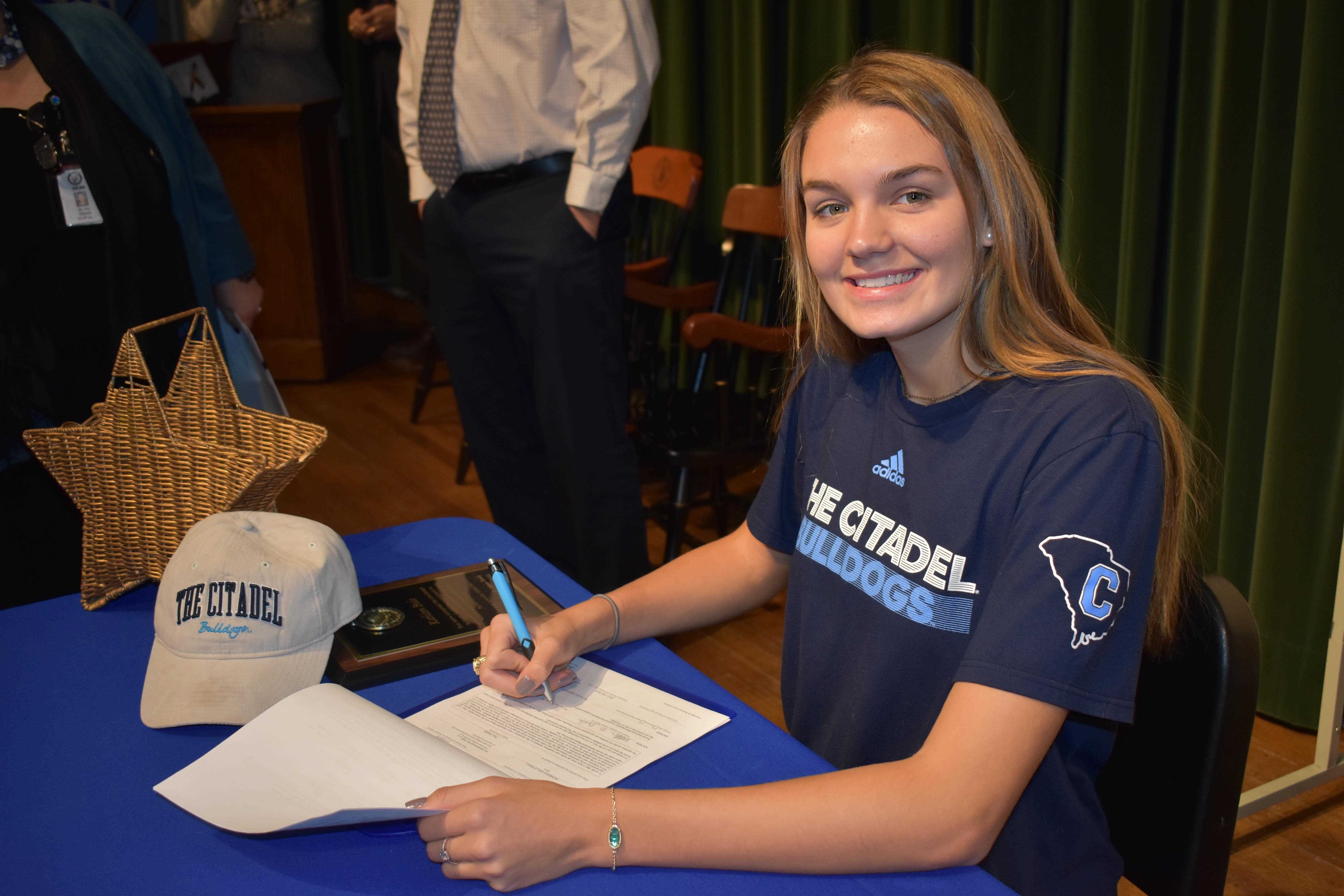 Kathleen Bula signed a letter of intent to play volleyball at The Citadel: The Military College of South Carolina. Kathleen has had an outstanding career competing for the Stars as a four-year member of both the varsity volleyball and track teams. She was named the Commercial Appeal Girl's Athlete of the Week in September of this year and was also named one of the 20 Memphis Area Volleyball Players to Watch in 2019. She helped lead the St. Agnes Stars to the championship of the 2019 River City Classic where they were the Gold Bracket Champs. Kathleen has been named to the TSSAA Division II West All-Region First Team three years in a row, and she was also named to the Tennessee West All-Region First Team. She is the St. Agnes Varsity Volleyball Co-Captain and was named MVP in 2018 and 2017. She also competes in club volleyball at Memphis Junior's. Kathleen has earned honors as a two-sport Scholar Athlete. She is a member of the National Honor Society and is active in the STEM Club and SADD Club. Kathleen's parents are Mark and Megan Bula.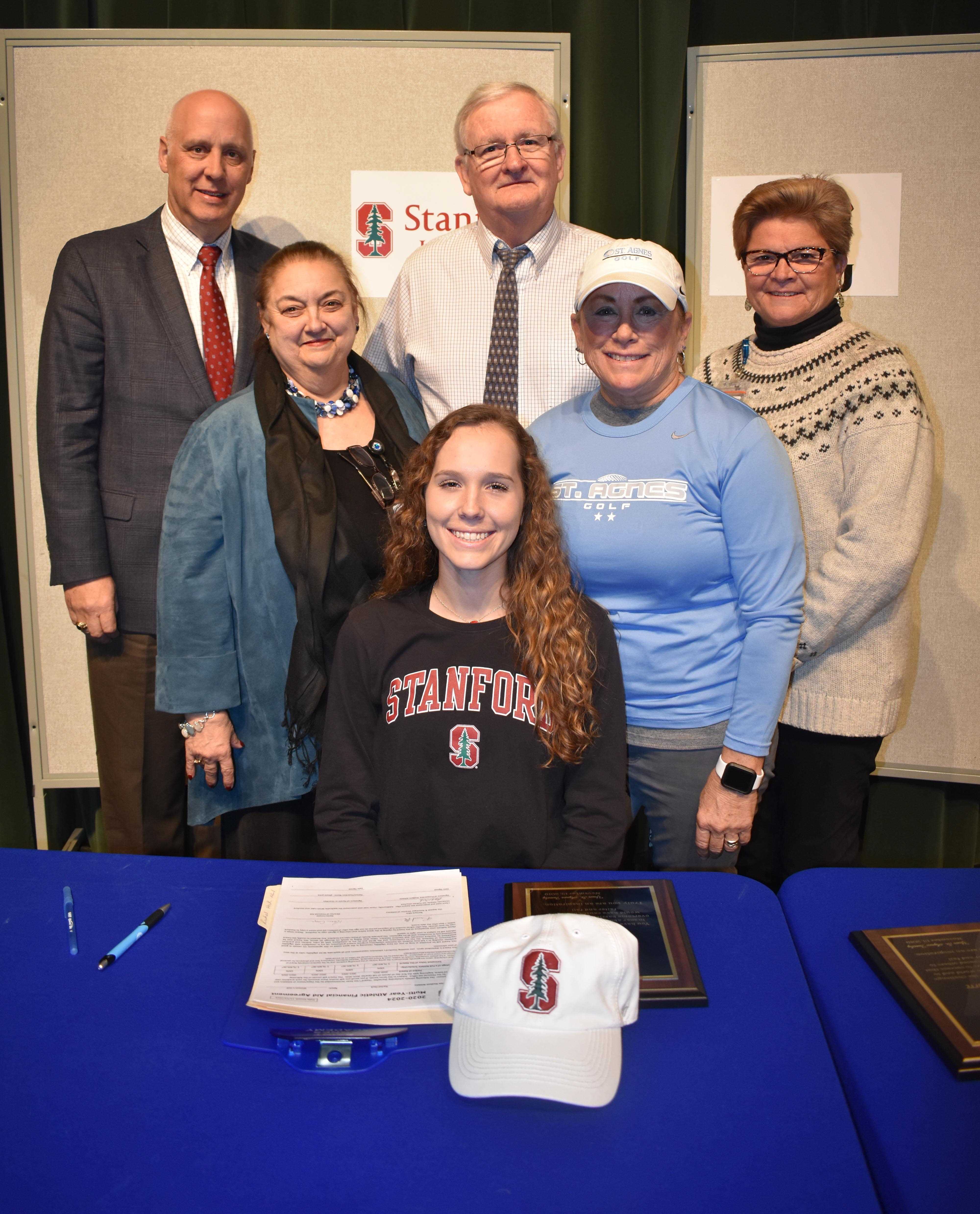 Rachel Heck signed a letter of intent to play golf at Stanford University. A 5-time AJGA Rolex All-American, Rachel was named the 2017 Rolex Junior Player of the Year. USA Today named her the high school golfer of the year in 2017 and 2018. She was a member of the victorious Team USA Junior Solheim Cup in 2017 and 2019, as well as a member of the victorious Team USA Junior Ryder Cup in 2018. Rachel has already made the cut in two LPGA majors: the 2017 US Open and the 2018 Evian Championship. A member of the SAA varsity team since 8th grade, she has won four individual TSSAA State Championships and helped lead her St. Agnes team to five TSSAA state titles. She was named Best of the Preps Female Golfer for three years and Best of the Preps Athlete of the Year as a junior. Rachel is a member of the National Honor Society, National Spanish Honor Society, National English Honor Society and Mu Alpha Theta Honor Society, and she volunteers as a math tutor in the SAA Math Lab. A talented artist she has earned numerous awards for her artwork. Rachel's parents are Robert and Stacy Heck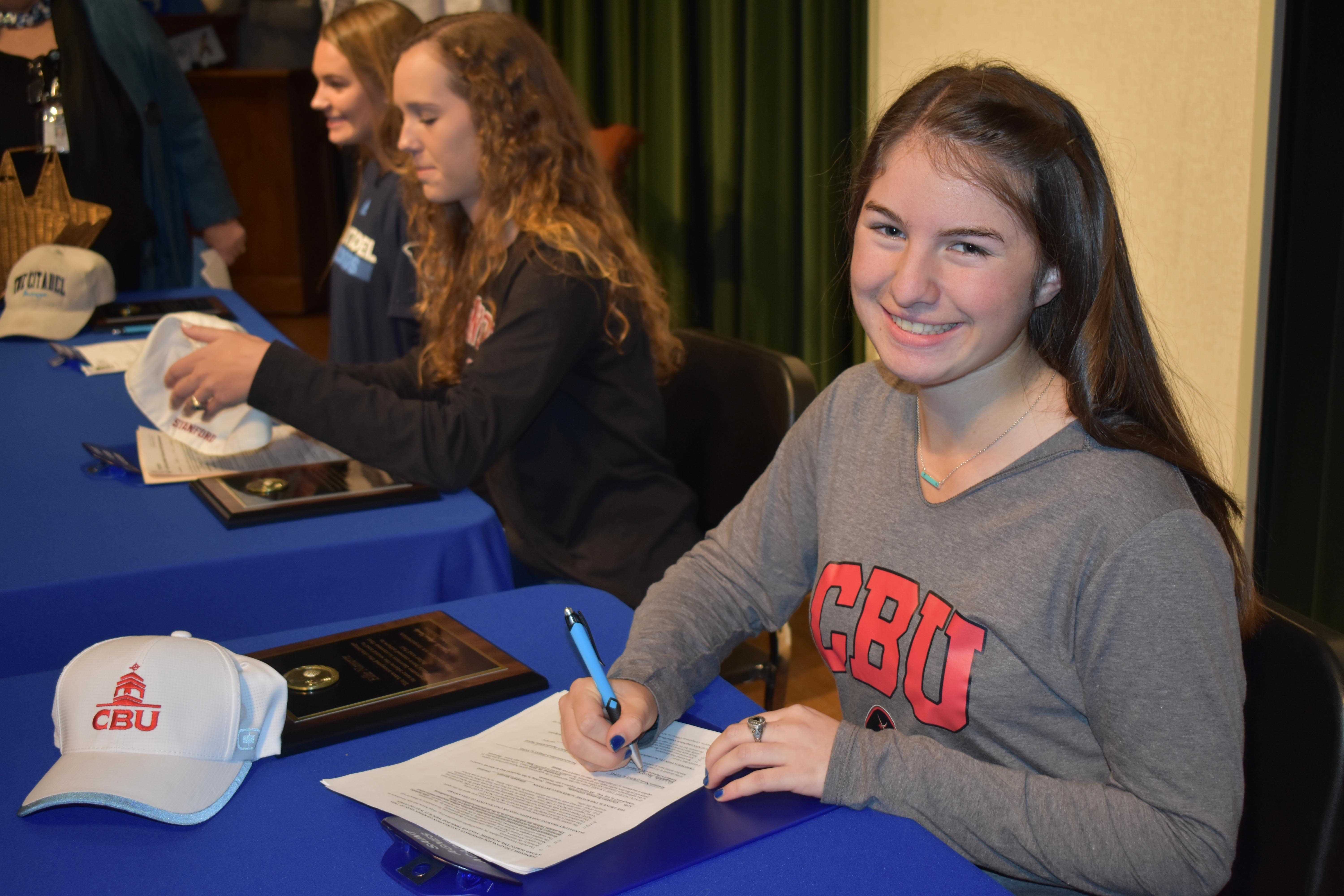 Ellie Navarre will continue her golf career at Christian Brothers University. A member of the St. Agnes varsity golf team for three years, Ellie helped lead the team to three TSSAA state championships and was captain of the team for two years. Elle has had top-10 finishes in the TSSAA State Tournament for three years, and she finished third in the region in 2019. She earned a spot on the All Metro golf team, and she was a 10-time medalist or runner-up in regional and national golf tournaments. She was the Hurricane Junior golf Tournament champion and was named to the All-Metro Golf Team. Ellie is a member of the National Honor Society, Spanish Club, National Beta Club, Fleece of Faith Club and serves as a Peer Mentor. She has volunteered over 350 hours of service to the community, is active in her church youth group, and volunteered as a camp counselor. Ellie's parents are Marc and Kristen Navarre.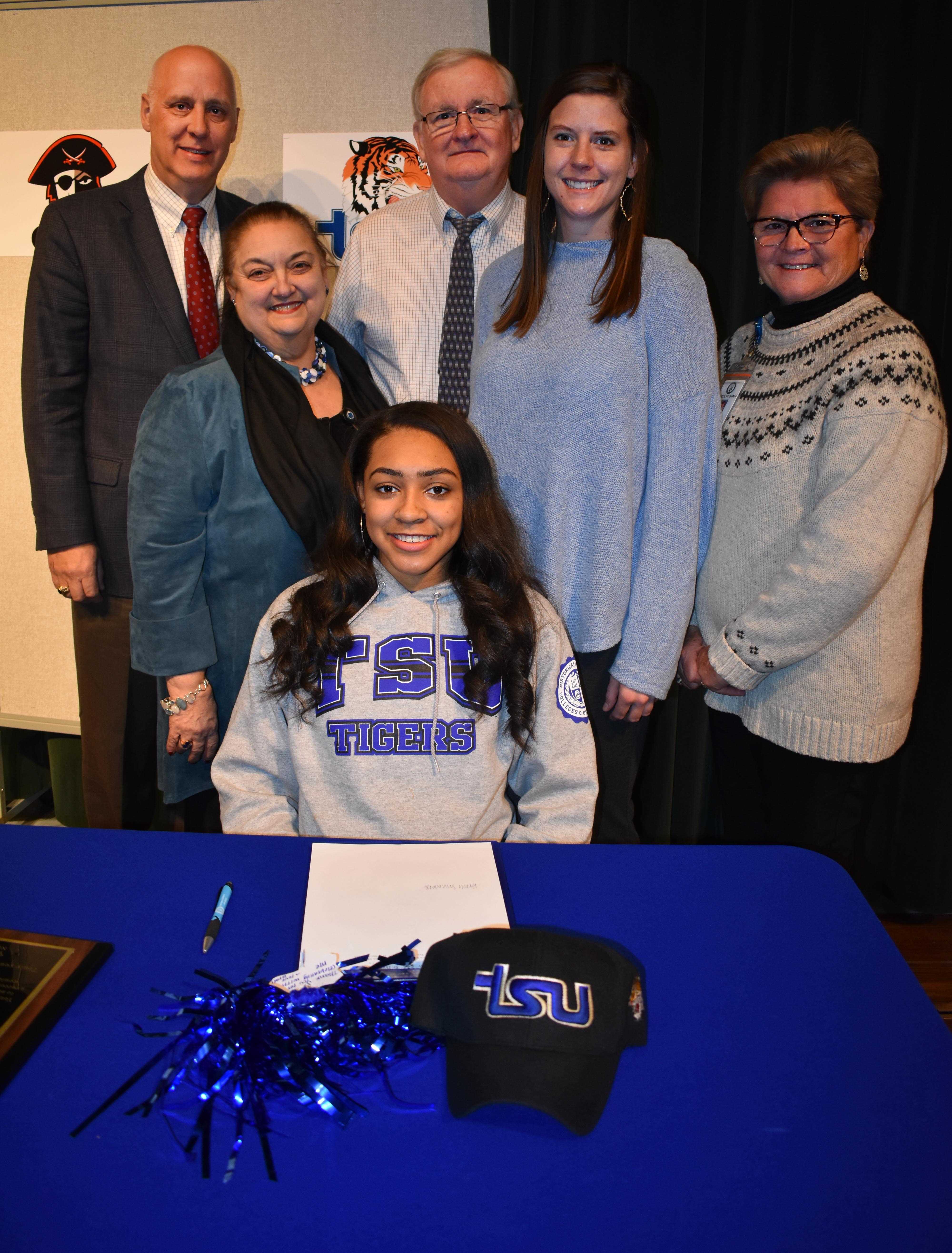 Brali Simmons will play basketball at the collegiate level at Tennessee State University. Brali, a talented point guard for the St. Agnes Stars, has been a member of the varsity basketball team for four years. During the 2017-2018 season she earned the Division II AA Best Newcomer Award, was the team leader in assists, steals and 3-point shots made, and was named to the Dragon Fire All-Tournament Team. As a junior during the 2018-2019 season she was the team leader in points, assists and steals and named to the Division II AA First Team All Region. In addition to playing for St. Agnes Academy, Brali also has competed for the Memphis Lady Mambas. She received the Silver Medal Championship Award from 2016-2018 and was the Hi C League Tournament Most Valuable Player in 2017. Throughout high school Brali has earned over 100 hours of service volunteering in the community and with the NAACP on local projects. She has participated in Bridge Builders. Brali's parents are Sean and Taya Simmons.