Back
Profile: Lauren McGoff, SAA Kindergarten Teacher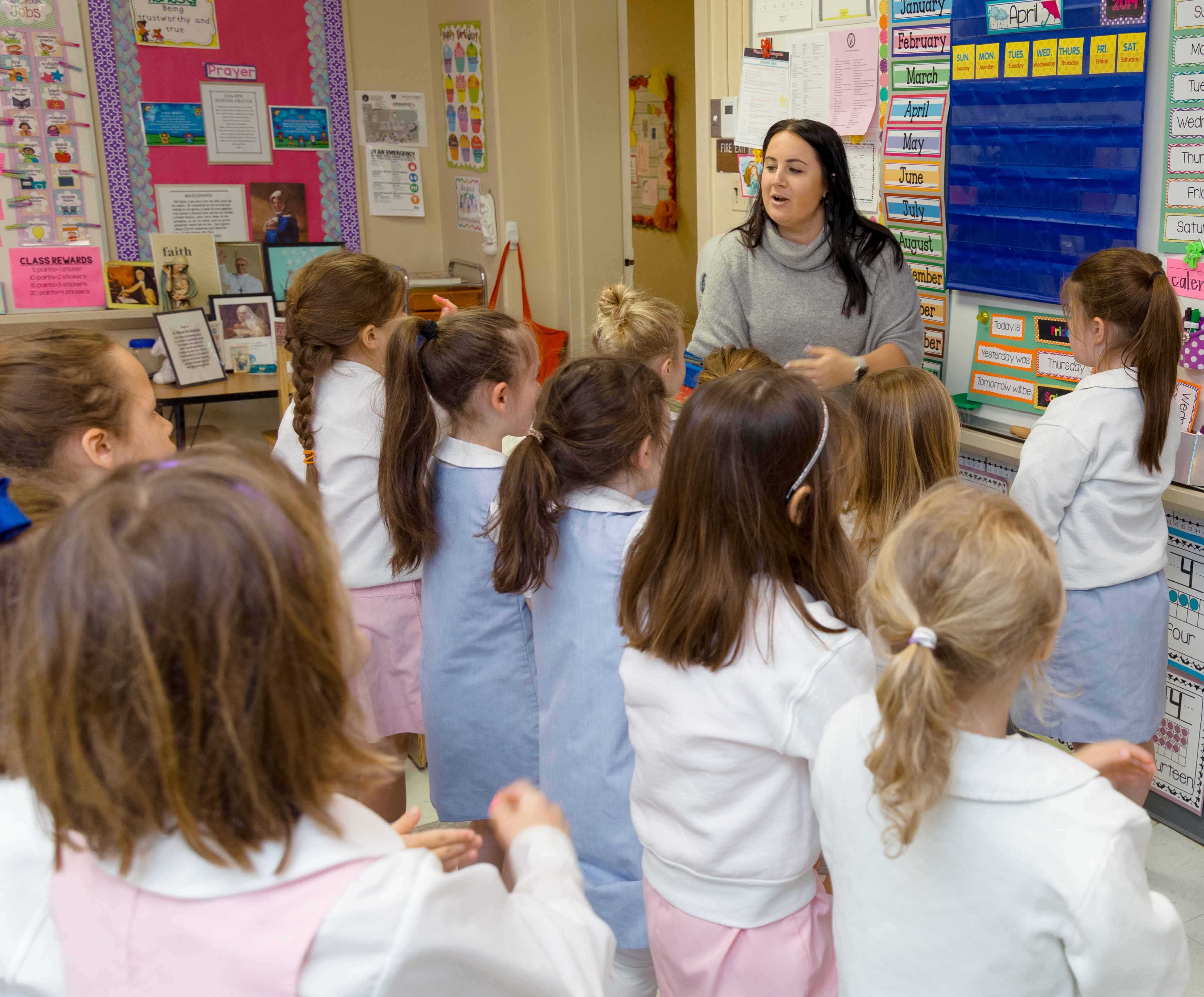 What do you love best about teaching at St. Agnes-St. Dominic?
I am so thankful to be a part of this community. The support, love, and encouragement I have received in my six years of teaching here is unimaginable. The people in this community have brought me coffee on a rainy morning, helped me have the courage to participate in the St. Jude marathon, fixed my broken-down car so I could go out of town that afternoon, or simply reached out to see if I needed anything. Also, I have maintained relationships with many of the families, and I've had the honor of becoming a godmother to two of my sweet students. At the end of each year it becomes difficult to let some of the great friends move to the next level.
I also love the resources that I have access to within the school. If I have a crazy idea or want to try something new with the girls, there is ALWAYS someone who is experienced or is interested in helping. For example, when I worked in the ECC I was really interested in incorporating STEAM in the classroom. I talked to Angie Garibaldi, and we collaborated to pull off some fun (and messy!) experiments. I am also able to access new and exciting resources into the classroom to support my teaching.

Why did you want to become a teacher?
I never really knew I wanted to become a teacher until I was a junior in college- and thankfully it wasn't too late. I started out as a communications major with the intention of working for St. Jude. I was passionate about helping children, and I wanted to be in the fundraising department. After two years I knew I wasn't content and needed more hands-on experiences with kids. Jennifer Tacker hired me to be a part of the EDA staff and that is where I realized I needed to change my major. Spending time talking to the kids about their day and helping them with their homework was so rewarding.
What do you hope to accomplish as an educator?
When you tell a child that they are going to be something, they will become that something. If you tell them they are strong, kind, or a hard worker, they will be those things. I hope that my students realize their potential and how important their talents are. I always want the girls to know that they are in a safe place to learn and grow and know how much I respect and care about them. Kindergarten is busy, but sometimes I love when we get side tracked and I can just listen to what they have to say. Academic success is an important takeaway, but the times spent getting to know my girls are so precious!

What are some of the ways you bring lessons to life?
When it comes to making the classroom come alive, I like to make things relatable and personal. The beginning of the year is not made up solely of explaining rules and procedures. First, I get to know my students, determine their interests, and incorporate those interests into my teaching. Open-ended activities are used to bring lessons to life so the girls shift the focus and pressure of a particular end goal to thinking outside the box. It is so rewarding to watch them embrace their creativity and explain their findings to their peers when given little instruction. I encourage them to freely construct, and they are really the ones who bring the classroom to life as they learn from each other. I see the best results when the girls do not feel the pressure to give the "perfect" answer or find the solution the fastest.
What are the benefits of the all-girl classroom experience?
The biggest wakeup call was the first day of teaching all girls Kindergarten. From my time in a co-ed setting in JK, I had become accustomed to a classroom full of crashes, movement, and high volume. So, the first day of school I planned all hands-on activities to keep everyone on task and preoccupied while we took care of first day business. Almost all of the girls walked in and wanted to sit down, talk, and color. You could almost hear a pin drop. I am not saying that all girls are the same, but in general girls are more interested in activities that involve communication and collaboration.
The all-girl environment allows me to tailor learning so they feel comfortable enough to take risks and become more confident in themselves. The all-girl environment is a spark plug for promoting confidence and empowerment. In the Lower School, the younger girls have many opportunities to see older girls become great athletes, singers, leaders, and academic scholars. This environment really helps the girls develop a strong sense of themselves and what they are capable of achieving.
How do the Dominican Pillars of Study, Prayer, Community and Service inspire life at SAA- SDS and impact your work with students?
There are schools that have a single focus or a mold they want their students to be. At SAA-SDS the Four Pillars help me educate the whole child, rather than just one type of individual. The pillars inspire me to encourage the girls to be studious, but to also know the importance of talking to God, being a servant leader, and contributing positively to the community
You are a St. Agnes alumna. What is your favorite SAA tradition?
My favorite SAA tradition is the Father/Daughter Breakfast. At the time, you don't realize how fast time flies or appreciate the little events with your parents. When I pull up to work the morning of the Father/Daughter Breakfast I am always a little jealous.

Favorite Authors?
For children - Shel Silverstein. There are so many memorable stories and lines that can also be life lessons for children. Nancy Carlson is also one of my favorites, maybe because she wrote one of the most memorable books from my childhood and the girls love her book "I Like Me". For myself – I enjoy Rachel Hollis books.